"Winning is essential to me, but what brings me real joy is the experience of being fully engaged in whatever I'm doing." 
I joined Moolya Testing as a Software tester. It has been 9 months, and I was thinking of penning down my marvellous journey for all aspiring Testers out there.
"Moolya" means value. Moolya coaches to add value in what you love doing the most – Testing. Every day is about learning something new, and this makes the journey more exciting.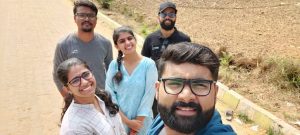 I joined Moolya along with people who came from different part of the country to achieve something big in their life. New place, new faces, diverse culture made me quite anxious about joining the company.
Different sessions were organized, where all the new joiners were taught about the company's vision and goals and the importance of teamwork. And as time went by, we came to know more about each other, became good friends, worked as a team and had lots of fun. 
Few days after joining, we got to meet our training coordinator, who assigned us tasks, arranged sessions to polish our skills and helped us clear any doubts we might have.
The assigned tasks were very uplifting ones. From writing Test cases to making spreadsheets, the fun was just about to begin. The senior testers guided us, helped us correct our mistakes and learn new things. And it was all fun. We exchanged ideas, gained knowledge, and this made the training sessions more fun.
One of the tasks was about discovering the curse of web technology in the materialistic era. 
After weeks of learning and gaining the required skills, we got our first assignment where we got divided into 8 teams. Each team had two interns.
Our task was to use technologies like HTML, CSS, PHP, JS, DB, MySQL and TOMCAT servers and implement them in our projects.
Even though most of us had the basic knowledge about these applications, we encountered lots of problems, such as server downtime and app crashes. 
After several attempts of trying and not getting the desired results, we had to approach our seniors. All the seniors, including the leads and managers, helped us figure out the right approach to tackle such situations. They suggested us to go through different blogs on Testing and try again. After doing our research for days, finally, we were able to clear off our assignments.
These sessions taught me the value of having patience and working as a team. Taught me to overcome any challenges by managing time and communicating in the right way.
The learning journey throughout the sessions is inspiring and can be treasured.
Moolya never lets you feel homesick during the festivals. We celebrate it like we used to do it at our homes. And, this made me love Moolya more.
As days went by, I started working on live projects, worked from client locations, learned about working in different projects, made friends from the developers and the testers community and continuing to have the thrill.
 The journey is exciting so far. Being my first job, I was in a dilemma of making the right choice and Moolya changed my perception.
I feel our Moolya is more like our family and here we are free to interact with anyone. For me, it's not just a workplace, but a home away from home.
That's my first job experience (: 
14