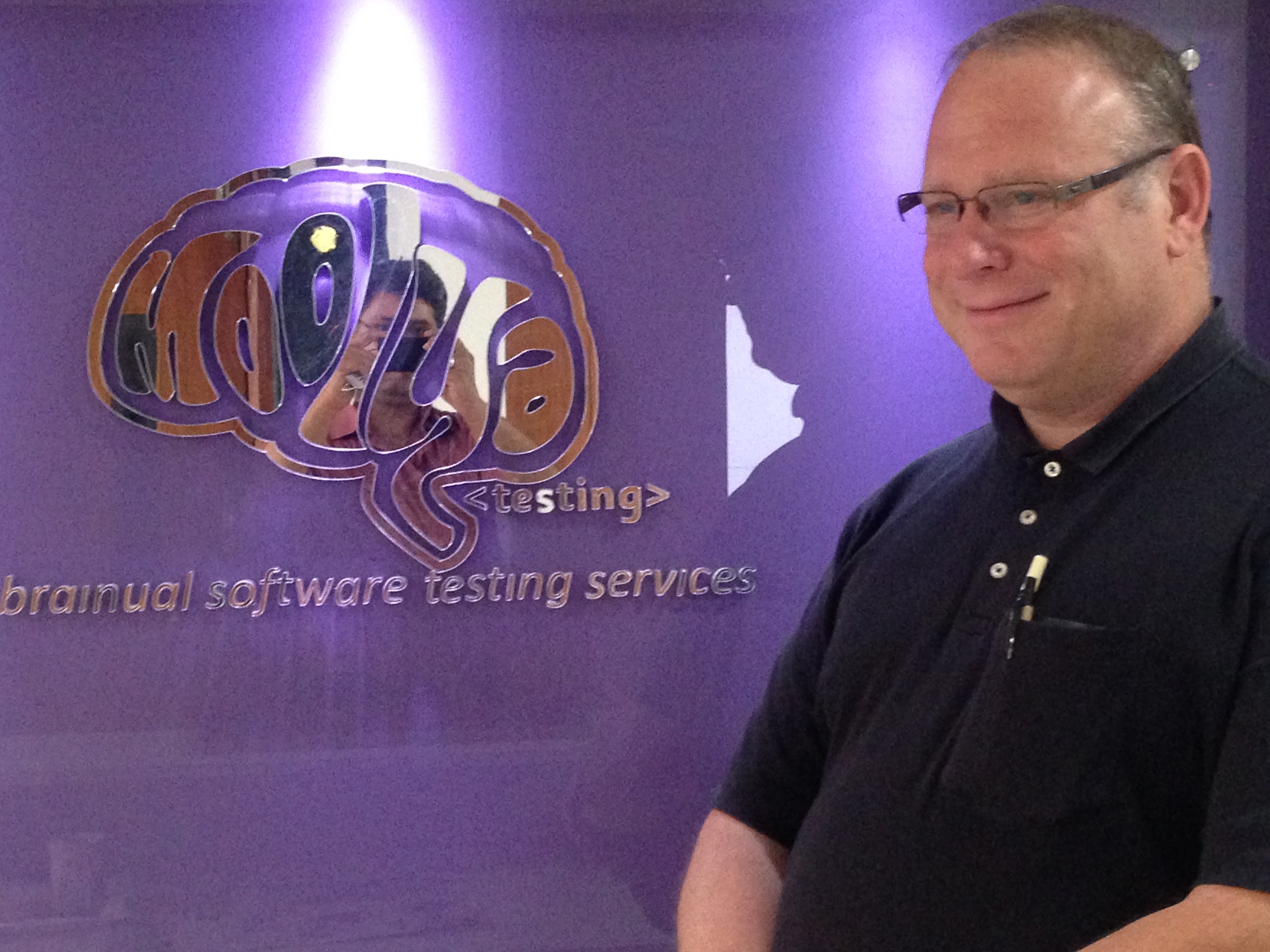 Moolya has had the pleasure of hosting Rob Sabourin for 2 weeks in its office in mid 2014. The energy in Moolya in those two weeks shot notches above the usual.  Wait a minute! You don't know Rob Sabourin? He is the author of Am I A Bug to begin with – and if you have seen his presentations or have interacted with him you know this old guy is passionate, has energy of an 18 year old and knows the subject so very well. He also helps University students in McGill University, Montreal, Canada. So these kind of information about him is public. One of his core work is Just In Time Testing. When you have little time and you need to great testing his Just In Time Testing notes can come in very handy.
Why is it interesting to read further about Rob?
Rob is not one of those guys who is obsessed to make his life public. He tweets less – he works more. He brags less – he works more. He doesn't market himself – he lets his work do the major talking. He takes more notes out of a conversation than the other side can make from the same conversation.  He is a grandpa and asks questions like a baby. Very innocently where answering a question from him is hard. He asks fundamental questions. A lot of this you won't find online. It is a secret only known to those who have closely interacted or worked with him. He has a very simple looking website – making it look like he knows less but but knows as much as anyone else in this field who knows the world.
How did I get 2 weeks of Rob Sab at Moolya?
I first saw Rob Sab in 2008 in CAST 2008. I hadn't spoken to him then. I then met him in Oredev in 2011. I thought I was famous enough through my Tester Tested blog and I introduced myself, "Hi Rob, I am Pradeep" and he replied, "Pradeep who?", I soaked in the reality and said, "I am Pradeep Soundararajan – author of Tester Tested blog…" and he said, "Interesting, I haven't read any of your posts – why do you think I should read it?" 🙂
What happened after that was he served me humble pie every sentence and I ate so much of it. I kept the conversation going. I met him at Lets Test conference in Sweden again. I was again blown away by his knowledge and skills. Thankfully he didn't say "Pradeep who…" but instead he said, "Pradeep, my friend". I invited him over to Moolya and he had never been to India. So it was exciting enough for him. He wanted to bring his wife Anne along and we struck a deal. Rest is logistics.
How did Rob approach the 2 weeks?
He asked a lot of questions even before he came over. He assessed the context. He asked me a lot of tough questions. He asked me to introduce him to the team and then asked them same and different questions. He had some ideas. He landed and then arrived at the office. I had a plan too. I asked my team – different teams to take him out for lunch during those two weeks. So that everyone in Moolya gets to interact with Rob Sab and break bread with him.
He did a mix of coaching and consulting. He went deep into a few projects and he surveyed the rest of them. He found patterns of how testing was happening in Moolya and he would catch up with me every evening. Evening times were debrief times. Mostly at a coffee shop – with his favorite Doppio.
I had a personal request to ask him and his wife Anne to present the talk that they did at CAST 2008  – "Applied Testing Lessons from Delivery Room Labor Triage" . Such an amazing presentation they do together as a husband and wife – each talking about their profession and mixing testing to it. Anne is a nurse in the labor room and they triage when someone comes in emergency and Rob pulls what we could apply to testing and bug triage. They did this talk at Moolya and I loved it as much as I loved it the first time. So I had the pleasure to listen to it in 2008 and then in 2014. A classic.
People were quite excited about Rob's presence in office. He looked much older to them and behaved much younger to them speaking with the wisdom that looked like a combined wisdom of everyone in the room. He made plenty of notes.
The debrief sessions with Rob
I did my work all day without meeting Rob. I didn't bring him to Moolya to make him sit in front of me for the 2 weeks but instead to make him sit with my testers. He was mostly standing though during training and sitting and sifting through data. At de-brief – usually after his first sip of doppio – he would start telling me a view of Moolya that I thought I had known but not. He would give me a view of the team – what they are good at – what they need help on and how they need the help with specific examples. For a few days – he also had his wife do independent assessment and as a nurse she observes things that Rob misses. So what a great husband wife pair they were and the same reflected in debrief. Anne too would share her notes along side Rob.
Rob's debrief and my education as a CEO
By getting Rob to Moolya I knew he would help exposing gaps in my thought process. He exactly did that. He gave what I missed that affected my team as much as he gave my team what they need to fix. He observed my leadership style and suggested a few changes. He taught me situational leadership. He taught me how can I help my team succeed without they changing their personality type. I was so happy and proud I made this decision to bring Rob. I did a similar thing bringing James Bach and Julian Harty to Moolya. These people have guided me on my education in test, tester and vision management.
Why did I choose to write about Rob – 3 years after his consulting?
Recently, Ramit Manohar – Head of Delivery and Testing Value at Moolya – and I were working on something for our Moolyans to help them learn and scale their learning whilst tracking the learning progress. I then remembered some pointers and notes Rob had shared with me and they had to be used. The lazy me – I did search a bit but then dropped an email to say Hi to Rob, asking him for the notes.
He replied back with a link in Dropbox and to my astonishment – he had a superb record of everything that had happened in Moolya. Even today if I go through it – I can recollect everything. He had videos of all his training – consulting and coaching. He had notes – interviews – debrief notes, presentations and everything well organized. I am amazed. I call him grandpa these days (and he likes me to call him that way). Amazing work Grandpa! I want to bring you back soon. Your work is echoing even today.
0