Moolya means VALUE.
Who is the creator of value at any setup? Everyone who is a part of the ecosystem contributes to the creation of value. The recipient of the value created is all those who are involved in the business, the stakeholders, even the stockholders, clients, and the employees.
Foundations on which Moolya is thriving is detailed using these 3 major foundational values in the system which are Freedom, Fearlessness, and Flexibility.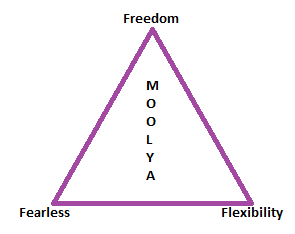 Freedom As A Value
Greetings, that's what will welcome you to Moolya and a breed of fresh graduates will catch anyone's attention here when you walk around the office. One can witness a few involved people walk into meetings and value is the outcome of it. Employees spend their valuable time here and are living their values. They are not gambling with their waking hours at this work-place as opposed to leaving late to impress a senior in duty.
Confinement which happens to be one of the many problems in organizations is the root cause of why a company subjects itself to implement anonymity when they seek feedback (to know how they are doing on employee happiness quotient). Or the reason why they create an employee engagement program in all secrecy which involves no employees but the decision-makers are all from high up in the hierarchy. This is what you will miss here. The striking difference from any large confinements to this startup is a shift from hostile to hospitable.
There is an openness in communication that is propagated from the testing leaders themselves and are setting up the testers to learn by example. This is a win for all involved.
With this kind of freedom, the goal is to let the employees use the work environment freely, the benefits of which are insurmountable. Moolya is one such organization that chops all that unnecessary organization behavior and expenditure down to allow people to be the asset.
With this setup, the spin-off that one will attain with a fresher or an experienced employee is those who are ready to quit these exactly now:
Fearing change

Being afraid to be different

Trying to please everyone

Thinking you are not good enough

Sacrificing happiness at the workplace
Organizations have to open doors to the way people think about freedom, to allow constructive innovation to happen.
With freedom comes responsibility and the testers need this creative freedom to test effectively and log bugs dispassionately.
Fearlessness As A Value
The employees here feel safe in a certain way and are aware that fear is known to kill creativity. Many firms, inject fear during the induction itself by being way too formal with their conduct and that's still the accepted norm. But Moolya is not hamstringing any of their workforces and it is true that there are a lot of scopes to learn from traditional companies and a lot that the traditional companies can learn from them.
A company that has made testing as a service from nothing to where it is today, this success is attributed to a key-value at Moolya which is hospitality. Clients of this organization and the employees alike will agree to this.
What sets us apart?
The ecosystem here does have a different set of ideas and clashes in ideas but this work-place is an opportunity for the new breed of thinkers and a majority of the employee population here is for obvious reasons fresh out of college/university.
Yes, poor business practices can hamper any organization but being fearless is not gonna dampen the work that we do. In Jerry Weinberg's words – "COURAGE is the most important skill for a tester" and the set up here acknowledges this attribute of a tester.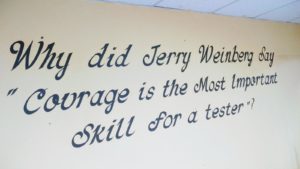 Quote from Gerald Weinberg on one of Moolya's wall.
Fearless here precisely means that the company will stand by the employee to allow them to make mistakes and learn from it as opposed to penalizing an employee for making a mistake which will cripple a student from further learning. Exceptional learning standards are set by the employee here with this provision. To share an example of this: The author spoke to a Moolyan who conveyed that only when an attempt to learn from mistakes was made that the tester gained the confidence to learn in a better style. This wisdom of learning from mistakes and not fearing to fail is used at Google's R&D to innovate for the future.
An organization can only cause more damage by instilling fear in its workforce. So the better judgment is to back off and allow people to be leaders which is the people strategy at Moolya.
People will discover amazing new ways to use freedom and creativity at work when an effort is not made to instill fear in its biggest asset – PEOPLE. Quote "Horse sense is what keeps horses from betting on people". But it is damn obvious that an employer can bet on its workforce and win at it too.
Play with no emotion of the workforce but with tools and techniques that the firm can invest in and reap value in returns.
A tester in every sense is also a crimefighter and a petrified one is a forced fit in the system. To conclude, there is no acquiring of multiple intelligences when there is fear which is essential to better oneself as a tester.
Flexibility As A Value
Flexibility on the ground rules, leaves, working from home, maternity leaves, hiring new mom's(why not?) are just a few initiatives at Moolya and hopefully, employees do appreciate the risks that Moolya takes in this regard.
A highly regulated environment is not a boon to creative thinkers and to people with passion who want to make a mark for themselves and the organization that serves them. They would find regulations of all kinds a hindrance to the creative energy. A key skill for a tester is to be a high-quality thinker, and there is a value transfer that happens between all involved when such energy flows into the work that we do. Testers here teach themselves to continuously learn and are subconsciously aware of the testing gurus and the global testing community. For this, the employees here give full credit to the founding member, Pradeep Soundararajan who himself has been a tester and understands another tester better. Speaking of software testing which is not a norm yet in several firms is appreciated here. The key problem that PS and team have solved by founding Moolya is to magnify tester and testing value which is not yet the norm around us.
A skeptical tester too would be convinced to be a part of this experiment of Value Creation at Moolya, if the key focus is to learn to test better.
In short, Moolya is a one-stop shop for a learner/tester and for the client to learn about value-based testing, the award for a tester here is to learn alongside the thinking testers.
This flexibility allows employees to speak from their brain. One will we amazed at the display of confidence of the testers who speak their mind. Kudos to Pradeep and team for creating and promoting a workplace such as Moolya. A tester here is courageous enough to speak freely on matters that really matter.
Employees of an organization are bound to witness a ton of tension in work environments which are highly regulated, this one is not one of them.
Flexibility in the ecosystem can not only help create better testers but also contribute to a *holacratic organizational structure.
*Holacracy is a method of decentralized management and organizational governance, in which authority and decision-making are distributed throughout a holarchy of self-organizing teams rather than being vested in a management hierarchy.
Come, be a part of this exquisite learning to have a first-hand experience in testing with the thinking testers who are ever ready to put their grey cells to test.
Optional Reading
https://en.wikipedia.org/wiki/Theory_of_multiple_intelligences
https://en.wikipedia.org/wiki/Holacracy
0