Sometimes the cliches speak the truth. In every way, prevention is better than cure. And there's no other fitting example than the subtle case of investing in employee wellbeing and their subsequent impact. 
But today we are not going to talk about that. 
Rather we would shed some light on the costs that you might incur for not investing in it. Or you might be incurring them right now but you're oblivious to it. 
Why Suddenly We Need to Talk About it? 
The fact is that we always needed to talk about it. But we didn't. 
However, the pandemic shakeup and changing expectations of the new generation of employees have exposed us to the truth more than ever. 
Well-being is not a luxury. It's a necessity. In a study conducted over the span of 3 years it has been revealed that a lack of health and wellness program has caused 28% increase in stress level of employees. (Source: who.int) 
When it comes to depression and anxiety the figures are even more alarming with a staggering increase of 58% and 74% respectively.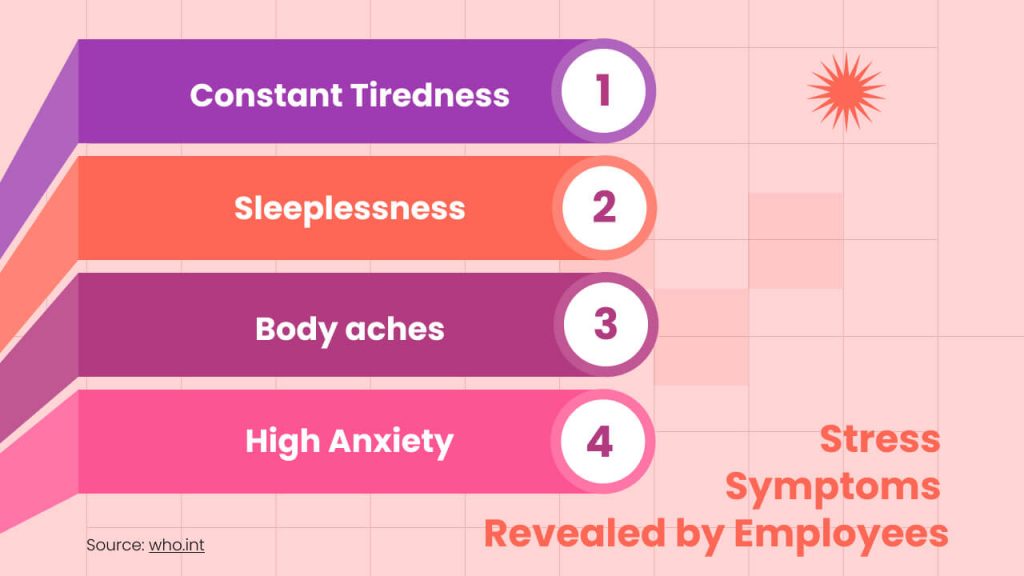 Stress Symptoms Revealed by Employees: 
Constant Tiredness 

Sleeplessness 

Body aches 

High Anxiety 
Source: who.int
Is Ignoring Your Employees Health and Wellness Hurting Your Bottomline ? 
Yes, disregarding the mental and physical health of your employees can cost you financially.
According to a recent study conducted by the National Alliance on Mental Illness of the United States, the cost of mental health in the workplace is approximately $210.5 billion per year. 
When it comes to the Indian market, the figure reached an alarming amount of INR 1.1 lakh crores per year,  according to a study conducted by Deloitte. 
And this statistics is going up annually affecting companies across the industries. 
Due to the various factors like absenteeism, presenteeism, and attrition the companies are incurring a huge amount of invisible costs which are ultimately hurting their overall revenue margins.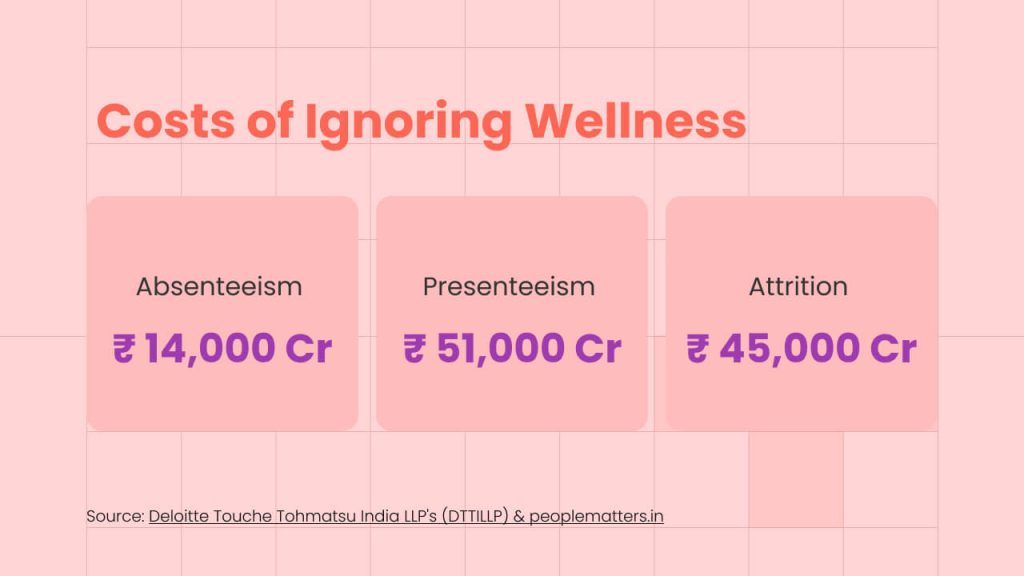 Costs of Ignoring Wellness 
Absenteeism: ~ INR 14,000 crore 
Presenteeism: ~INR 51,000 crore
Attrition:~ INR 45,000 crore
Source: Deloitte Touche Tohmatsu India LLP's (DTTILLP) & peoplematters.in
Mamta Sharma of peoplematters.in reports that around 80% of the Indian workforce is showing signs of burnout and according to WHO this figure is likely to reach $1.03 trillion by 2030. 
Sounds concerning enough? 
Investing in Culture Might Help 
Avoiding the dent in your revenue can be an immediate motivation but taking care of your people should be a long term inspiration. 
At Moolya we ensure that we inculcate holistic wellbeing as a part of our culture and not as a separate set of isolated programs. In that way we try to live a more enriched life by catering to different aspects of our respective lives. 
So starting from promoting a healthy lifestyle to encouraging people to indulge in their hobbies and passion we've created an environment where we grow not just professionally but also as an individual. 
The best preemptive measure that you can take is to alter your organizational culture and make it more people centric by nature. Investing in culture will not only give you a happier and healthier workforce but also will steadily ensure growth in the revenue. 
Reference: 
https://www.peoplematters.in/article/employee-relations/unhealthy-cost-poor-employee-mental-health-costs-india-inc-around-14-billion-yearly-35231
https://www.who.int/news/item/02-03-2022-covid-19-pandemic-triggers-25-increase-in-prevalence-of-anxiety-and-depression-worldwide
3